3 Upbeat Food Industry Trends to Watch for 2021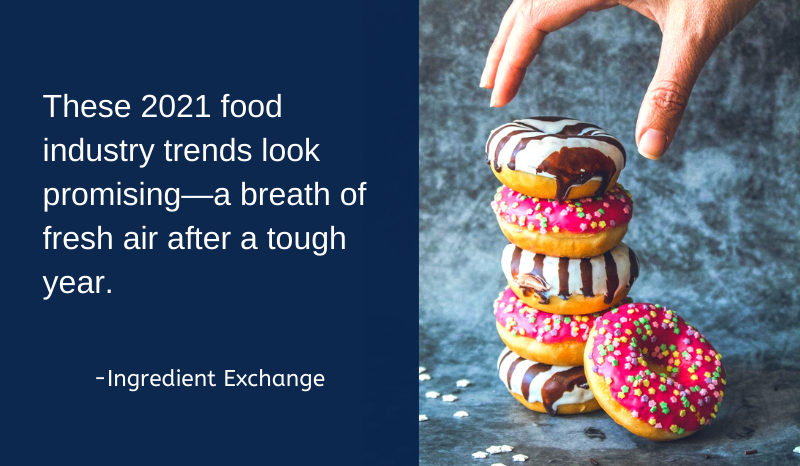 4-minute read
These 2021 food industry trends look promising—a breath of fresh air after a tough year.
If there's one thing 2020 has shown, it's the food industry's resilience—from Valentine's Day chocolate trends that in February weren't predicting a rise in chocolate sales due to a looming pandemic to Halloween candy makers that did some amazing pivots to accommodate social distancing.
What's next? Here are some significant food manufacturing and industry trends to keep an eye on in the upcoming weeks and months.
1. INGREDIENTS—demand for vibrant, natural food color is on the rise
As consumers around the globe become more aware of food labeling, they're demanding simple, recognizable product ingredients. That includes food colors and flavors.
You can see the evidence in the markets. As 2020 winds down, the natural food colors and flavor market sits at around USD 5.0 billion, and it's expected to reach USD 6.8 billion by 2025, according to MarketsandMarkets.
But creating natural, vibrant food colors is not easy. "Manufacturers have struggled to develop shades that are not only vibrant but also have long shelf lives," reports FoodDive.
That said, the color innovation company GNT is leading the way in natural color development and production.
For instance, GNT is creating natural red hues from edible plants like radish, carrot, sweet potato, and berries, "using physical manufacturing processes and no chemical solvents."
Products likely to get a splash of natural color in 2021 include plant-based products. Most notably, alternative meat products.
GNT's red colorants will play a functional role, simulating "blood red" color that changes as cooking progresses, reports FoodIngredientsFirst.
2. FOOD SUPPLY CHAIN—agriculture gets tech upgrades
Without a doubt, 2020 has presented supply chain challenges. However, agriculture is seeing an uptick in innovation tech, including robust investments in new ways to produce and protect crops.
There are several agricultural trends to watch in 2021, according to FoodNavigator. Let's do a deeper dive into two of the main ag-tech trends and companies that are gearing up for a successful year.
Vertical gardening could lighten the supply chain load.
One of the ways to mitigate supply chain risk is to decrease the distance food must travel. This year, vertical gardening innovators attracted substantial investments to grow healthy food in less space and close to populous areas.
For instance, in 2020, the global company InFarm secured $170 million in funding. The latest capital will allow the company to invest in "infrastructure, research and development and hiring to drive global growth."
The vertical farming company has already partnered with over 30 major global retailers, including Kroger in the U.S. The startup boasts some impressive stats, including using:
99.5% less space
95% less water
90% less transport
Zero chemical pesticides
90% of electricity for powering the network is from renewable energy sources
Crop protection gets a high-tech boost.
The Food and Agriculture Organization of the United Nations (FAO) "estimates that annually between 20 to 40 percent of global crop production are lost to pests."
Agriculturists typically battle the pests—from locusts to fruit flies—with pesticides.
However, more significant environmental and health awareness surrounding pesticides is leading to technologically advanced and nature-friendly approaches to controlling food crop pests.
One company, GreenLight, which raised significant funding in 2020, is developing pest control therapies "that work with nature, not against it."
The RNA-based crop protection products "will help farmers create greener, cleaner crops by precisely targeting a specific pest with non-toxic biocontrols, and without harming beneficial insects or leaving residues in the soil or water," reports the startup.
3. SUSTAINABILITY—upcycled food is attracting industry leaders
Upcycled food is looking strong for 2021 — a good thing, considering that it's estimated the U.S. wastes around 30 to 40 percent of the food supply, according to USDA.
Upcycled food programs are becoming more mainstream after several years of creative marketing campaigns and business development.
One organization to watch (or join) is the Upcycled Food Association (UFA). Here's how they define food upcycling:
"Upcycled foods use ingredients that otherwise would not have gone to human consumption, are procured and produced using verifiable supply chains, and have a positive impact on the environment."
The non-profit aims to reduce food waste "through research, strategy, networking and policy advocacy."
So far, they have an impressive list of food industry members, including Nestlé, Dole, Mattson.
As a new member, Dole commented that they aim to achieve zero waste. Joining UFA will help them achieve this goal as the food company looks for "innovative ways to convert less-than-perfect produce into affordable, innovative forms of nutrition."
New year. New opportunities
As 2020 draws to a close, the food industry, while busy with the holiday season, is winding down from a challenging year.
However, as this year showed and the future promises, the ever-innovative, forward-thinking people who keep food on our tables continue developing new and better ways to manage our food.
Ingredient Exchange helps food manufacturers recover ingredients that would otherwise go to the landfill. Please give us a call to discuss rescuing cash on your expired, surplus, or downgraded product.
Talk to our team today. PH: 314-872-8850
Image: Tijana Drndaski (edited)